Meet Our Exhibiting Artists
Enjoy the Experience of Viewing Our Collections In-Person!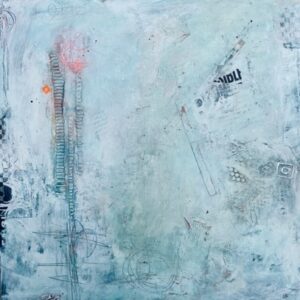 Throughout an eclectic career that ranged from graphic design, event management, video operations, software development and live theatre, Ellen was always an "after-hours" artist. When she reached the point where her day job was taking too much time away from painting, she mustered the courage to leave her role as a corporate executive and is now painting full-time – dividing her time between NYC and Sarasota, FL.
Ms. Kantro finds inspiration for her abstract painting in many places, but in abandoned buildings and distressed surfaces in particular. Her influences are seen in the patterns of decay, and the way nature's elements and the passage of time re-shape our surroundings.
Many of Kantro's paintings incorporate typographical elements. Numbers, characters, cursive hand lettering, or foreign alphabets are obscured under layers of acrylic paint to be found when you least expect to see them.
A native Brooklynite and figurative painter, Roe LiBretto has been living in New Mexico for 32 years. Her allegorical watercolors portray shared human experiences using a unique painting technique. Each painting serves as a surreal meditative piece offering an opportunity for the viewer to gain insight into their own subconscious and unconscious self. Roe uses symbols and iconography to express her ideas in the form of allegories. Roe's paintings have an ethereal, dreamlike and whimsical quality. She has international collectors of all ages.
The grainy texture of each piece is created by painting over a finished watercolor using a topcoat of ink or tempera paint. Once this topcoat is dry, she then washes the painting with color. LiBretto uses this technique to create work that "… most closely resembles the imagery as it appears to me, as if a scrim upon which these characters perform was dropped between me and the physical world." The act of washing each painting ritualizes her acknowledgment that a painting is the physical manifestation of information found in what Carl Jung referred to as the collective unconscious."
Andreas von Huene creates carefully refined sculpture over a wide range of subjects, media, and scales, in both abstract and figurative forms. He has a technical background; an MS in Engineering/Product Design from Stanford and a BS in Mechanical Engineering. He says that he delights in developing form, and elevating materials to develop the character of a piece and give it a dynamic presence. He strives to create art that comes alive and engages his audience at many levels. "My joy is in developing the character and vitality of each work, and charging my medium to breathe life."
Von Huene enjoys discovering and sharing new points of view, materials, and methods. "These fuel my delight in invention and enrich the widening and deepening range of projects and processes that are my grandest adventure."
Von Huene undertakes bold, often large projects working meticulously to carve heavy stones such as granite. We're thrilled to be exhibiting some of Andreas's figurative stone sculptures in our expanded sculpture garden this season. He carefully includes fine details to his pieces for hooves, snout, tails and wings. I find Andreas's ability to capture the essence and movement of his animals and birds interesting and exciting to view. 
EDUCATION
Stanford University
MS in Engineering (Product Design) 1988 Master's thesis: Landscape Bridges
Worcester Polytechnic Institute
BS in Mechanical Engineering
AWARDS and FELLOWSHIPS
Ichabod Washburn Award, Worcester Polytechnic Institute 1993
Individual Artist Fellowship, Maine Arts Commission 1991
SYMPOSIA and EXHIBITIONS
Maine Coast Stone Symposium, 2017, co-organizer and participant Viles Arboretum Sculpture Symposium 2014 and 2015 co-organizer and participant Skulptoura Boeblingen/Mauren, Germany, Bildhauersymposium 2014: participant Schoodic International Sculpture Symposium 2012: Participant JC Stone Sculpture Symposium 2010 and 2011: participant June LaCombe/Sculpture 2004-2017 Turtle Gallery/Granite Sculpture- 2011-2017 Harbor Square Gallery 2008-2017 University of New England, Portland, Annual Sculpture Garden Invitational 2011-2107
Shara Bailey loves exploring the world around her. She trained as a commercial artist early on in high school and obtained her PhD in Biological Anthropology. Her career as an anthropologist has taken her around the world from New York City to Yogyakarta, Indonesia; from London to Cape Town, South Africa and many places in between. These journeys introduced Ms. Bailey to new people and cultures both natural and man-made. Over the years, Shara discovered that she wasn't truly happy unless she was making art.
Armed with her camera and paint brush, Shara views her world from a creative perspective as well as an anthropologist. She has explored the land out west, and east in the Berkshires, New York, and New Jersey, where she now resides. Her outdoor scenes and landscapes evoke a melancholic feeling which I love. Although Shara paints with both acrylic and oil paints, I chose works from her oil collection because of the serene moodiness she can create with her oil paints and brush on canvas.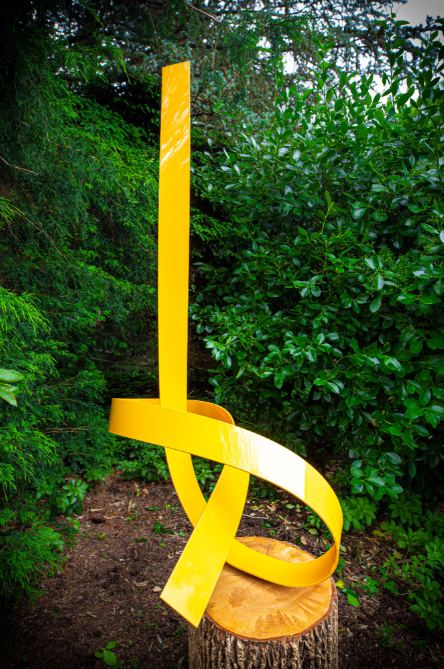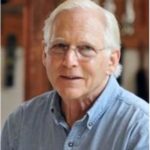 Born in New York, Joe studied at the University of Virginia and Columbia University. His interest in art led him to study at The New School, NYU, The Art Students League, Cooper Union and  Pratt Institute. Joe began sculpting as a hobby in 1969 while he worked on Wall Street. After Joe retired from his 30-year financial career, he dedicated himself to the full-time pursuit of making art.
Gitterman's career catapulted after his first exhibition at a Connecticut gallery in 2011. His sharp-edged linear sculptures flow in ribbons of beautiful organic designs. He was initially inspired by a love of ballet and modern dance. He casts in bronze or in stainless steel. He coats some with patinas or with bright colors. He has also cast large commissioned works for such clients as The Riverside Building in London, the Four Seasons Hotel in Houston, and Norwegian Cruise Lines among others. Joe's sculptures are in numerous private and corporate collections in the United States, Europe, and Australia.
Selected  Exhibitions
Governors Island, In Defense of the Human Spirit, Curated by West Harlem Art Fund & Studio
80 Sculpture + Sculpture Grounds   2022, New York, NY
Art Essex Gallery, Invitational Group Exhibition: 2022, Westport, CT
Studio 80 + Sculpture Grounds – Summer Sculpture Showcase 2022, Old Lyme, CT
ADC, Art Design Consultants – Art Comes Alive (ACA) 2021,  Cincinnati, OH
Studio 80 + Sculpture Grounds – Summer Sculpture Showcase 2021, Old Lyme, CT
Washington Art Association – Members Show 2021, Washington Depot, CT
Studio 80 + Sculpture Grounds – Summer Sculpture Showcase 2020, Old Lyme, CT
Washington Art Association – Members Show 2020, Washington Depot, CT
ADC, Art Design Consultants – Art Comes Alive (ACA) 2019, Cincinnati, OH
Minor Memorial Library – Motion: Susan Monserud + Joe Gitterman, Roxbury, CT
Basket Weavers and Woven Fiber Artists come to their craft and artistry in many different and interesting ways. Carolyn Zeitler is no exception. Upon graduating from San Jose State University in 1976 with a degree in ceramics and weaving, Ms. Zeitler began working in fire look-out with the U.S Forest Service in Big Sur, CA. In 1979, she began weaving baskets using native Coulter Pine needles that grow in the Los Padres National Forest. "My baskets evolved as a kind of marriage, combining my two loves; clay and fiber."
Carolyn describes working with pine needles as simplistic and straightforward. Her only tools are her hands and a needle. "The repetitive rhythm of the stitches becomes a kind of meditation. It's amazing that one can take a material as mundane as a pine needle and create something that celebrates its beauty and strength." There are inherent limitations to the medium that create a challenge to search beyond its boundaries for something that reflects both the tradition of craft and the innovation of art.
Ms. Zeitler recently began incorporating copper to her pine needle constructions which add delightful contrasts of color and textures. The results are a series of stunning new sculptures. She states, "It is my hope that when people look at my baskets, they will begin to look at pine needles and the beauty of trees in a whole new way."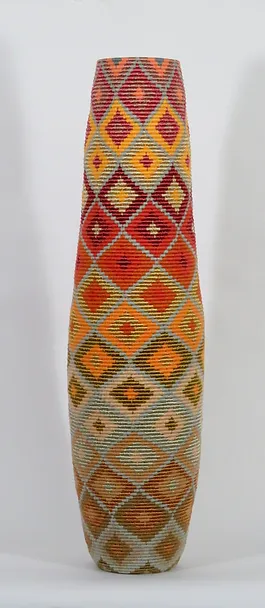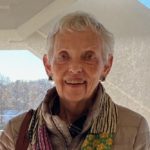 Born in Chicago, Pamela moved to Ohio, to upstate New York and now lives in New Jersey. She has an MFA from the University of Michigan, and is a master basket weaver and fiber artist. Since childhood, Pamela describes herself as having an impulse to create since birth.
Pamela's art has been inspired by environments and landscapes that have been part of her life and travels. "I find it easier to talk about things I see and experience in a way that relates to the way I experience them". As an avid gardener, Pamela became accustomed to viewing her subject matter in an up close and personal manner. Becker's art is about color and patterns of motifs and constructs with a reference to nature. They are the personal, authoritative esthetic signatures of this artist. "Perhaps that is the reason for the abstract nature of the work. Yet, no matter how abstract an image is, it still references the original impulse."
Selected  Exhibitions
2021
Interwoven: Contemporary Basketry, Cahoon Museum of American Art, Cotuit, MA
Roots & Vines, Moss Arts Center, Virginia Tech, Blacksburg, VA – invitational exhibit
2016- 2020
Mandatory Color, Museum of Texas Tech University, Lubbock, TX
"Le Salon de L'Obesssion de L'art de la Fibre", Gravers Lane Gallery, Chestnut Hill, PA
Basketry Now: 10th Anniversary Exhibition, The Kentucky Museum at Western Kentucky University, Bowling Green, Kentucky – catalogue
Excellence in Fibers 4, Craft in America Center, Los Angeles, CA – group exhibit
New Directions in Fiber Art – Montclair Art Museum, Montclair, NJ
CraftForms 2017, Wayne Art Center, Wayne, PA
"New Variations in Basketry", Snyderman – Works Gallery, Philadelphia, PA – invitational exhibit
"Pushing The Limits", The Brinton Museum, Big Horn, WY – invitational exhibit – catalogue
2010-2015
Belskie Museum, Closter, NJ – invitational exhibit
All Things Considered VIII, The Grand Hand, St. Paul, MN & Fruitlands Museum, Harvard, MA
Metamorphosis, Ross Art Museum, Ohio Wesleyan University, Delaware, OH – solo exhibit
8th International Fiber Biennial, Snyderman-Works gallery, Philadelphia, PA – invitational exhibit
SOFA, New York – represented Snyderman-Works gallery, Philadelphia, PA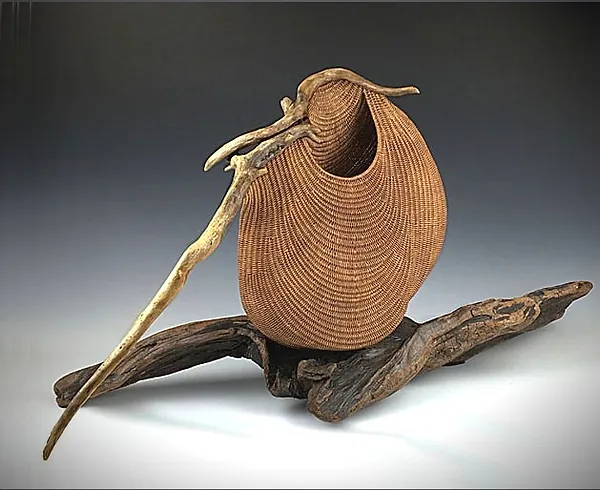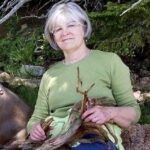 Deborah Smith was born and raised in the picturesque Hudson Valley of New York. Her weaving career was sparked by a basket-making class she and her kids took. Expecting this class to be a real treat for her kids, Deborah was immediately taken with basket-weaving. She purchasing supplies to take home and practice weaving with while her children were more interested in getting back home to swim.
Ms. Smith says, "while initially drawn to the simplicity and economy of creating Shaker baskets, I soon began to experiment with a freer, more sculptural kind of basket weaving." Deborah taught herself the rib technique through the study of the Appalachian egg basket. She then incorporated pieces of found driftwood into her weaving to create unique sculptural pieces of art in a variety of colors and sizes. Ms. Smith has years of experience exhibiting her woven art in many galleries and craft shows. I hope you enjoy her work.
Selected  Exhibitions
Craftforms 2021, Wayne Art Center
Philadelphia Museum of Art Craft Show
American Craft Council, Baltimore
American Craft Council, Charlotte
American Craft Exposition, Evanston, IL
Philadelphia Furniture and Furnishings Show
Elaine Lorenz is a sculptor who is known for her organic abstract work in ceramic as well as bronze or fiberglass reinforced cement for larger outdoor sculptures. Born in the Bronx, NY, Elaine moved upstate when she was 10 and she spent her summers in the countryside of the Berkshires. Her parents were gardeners and landscape painters, who taught her to observe and appreciate the beauty of the natural world, a major focus in her work. Over the years Lorenz has abstracted various aspects of nature, from the large rock formations of the Southwest to tiny seedpods.
Lorenz received her B.A. from Marietta College in Ohio and her M.F.A. from the Vermont College of Fine Arts. She is a tenured professor teaching sculpture and ceramics at William Paterson University, Wayne, NJ. Elaine has numerous commissions including a NJ Percent for Art at the Meadowlands Environmental Center and recently installed an 8 ft. bronze sculpture that was donated to the town of Piermont, NY.
Awards
MacDowell Colony Fellowship,
NJ State Council on the Arts Fellowship Grants, 1988, 1999,
Athena Foundation Grant for Socrates Sculpture Park,
Geraldine R. Dodge Foundation Grant,
Virginia Center for the Creative Arts Fellowship.
Selected Solo Exhibitions
2021   "Fertile Ground," The Court Gallery,  Wayne, NJ
2019   "Organic Abstractions", The Outside In Gallery, Piermont, NY
2012   "Channeled Earth," Sculptors Guild Gallery, Brooklyn, NY
2009   Jacobsen Sculpture Garden, Saddle River, NJ
2006  "Counter Balance" Tomasulo Gallery, Cranford NJ,
         "Nature's Influences",  Teaneck, NJ 
2004  "Breaking Space", OCCC Center Gallery, Demarest, NJ
         "Pivotal Gestures", 141 Cedar Arts Center, Corning, NY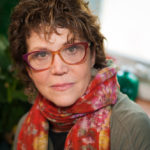 Julia Eisen-Lester is an established artist whose work has been exhibited widely in group, solo and juried exhibitions, and can be found in private and corporate collections throughout the United States, Canada and Europe.
Eisen-Lester began her journey as an artist at the Art Students League in the fall of 1969. Here, she studied the Nicolaides method of drawing with Lester Rondell and anatomy with Robert Beverly Hale. She remained at the League as a full-time student for over four years. Shortly after, she attended the New School, where she took classes in clay sculpture and anthropology.
Her portfolio spans a variety of media including works rendered in graphite, pastel, gouache, watercolor, oil paint and collage. Eisen-Lester's recent works are in oil, concentrating on urban life and plein air works from summers spent in Maine.
Ms. Eisen-Lester has been painting and teaching out of her Yonkers studio for the last 30 years and we're proud to introduce her sensitive scenes to the Berkshires.
                                      Solo Exhibitions
2019 · Noho/M55 Gallery: "Urban Tides" Drawings & Paintings, Chelsea, NYC
2008 · 457 Grand, Brooklyn, NY 1999 · Carroll Condit Gallery, White Plains, NY
1994 · Friends of Van Cortlandt Park Gund Benefit, Martha's Vineyard, MA
1993 · Wave Hill House, Wave Hill, Bronx, NY
                                     Awards & Juried Shows
2018 · Colors of Humanity Art Gallery, Online Exhibition "Landscapes", 1st Place, oil painting
2018 · BWAC National Juried Art Show, Brooklyn, Certificate of Recognition, oil painting
2007 · Art Students League, New York, 1st Prize, collage
1992 · Arts Finale, 1st Prize, water color
1991 · The Women's Mamaroneck Art Exhibition, 1st and 3rd Prizes, water color
1991 · Mamaroneck Artists' Guild, 35th Annual National Exhibition
1991 · The beaux Arts Finale, 3rd Prize, oil
1991 · Pleasantville Arts Club Annual Exhibition, 2nd Prize, water color
Born in Kiev, Ukraine, Diana spent most of her childhood years in Prague, Czechoslovakia. The daughter of a Soviet Army Sergeant Major father and artist mother, Diana always had a passion for painting and illustration. Her worldly travels have been a major influence for creating the diverse compositions exhibited in Diana's art. She graduated from the Ukrainian University of Culture and Arts, studied at the Kiev Institute of Decorative Art and Design and she attended the Art Students League in New York City.


Feeling a fish out of water upon arriving in America in 2015, Diana's enchanting surrealistic paintings depict the sense of happiness and joy she has after successfully adapting to her home in the US. The colorful fish magically placed fish in her "Fish Out of Water" series. exist in different surroundings with an air of calm, contentment and magic.
Exhibitions & Publications 2015-2021
"Samaya Detskaya Azbuka" book is published, Kiev, Ukraine
"Manners", "Colors", "Numbers", "Shapes", "Animals", "Fruits" illustrated cards, published New York, NY, USA
Evans gallery "Let Me Sea" solo exhibition, New York, USA
Zplay Theater "Theatrical Posters" solo exhibition, New York, USA
Small World "Let Me Sea" solo exhibition, Princeton, NJ, USA
"Begemotovyi Chai" book is published, Kiev, Ukraine
"Monster Adventure Time" book is published, Kiev, Ukraine
Small World "From Princeton to The Ocean" solo exhibition, Princeton, NJ, USA
Trenton's Visual Art Center "The Red Dot" group exhibition, Trenton, NJ, USA"
Art All Night Trenton" online art festival group exhibition, Trenton, NJ USA
Jim's of Lambertville Art Gallery, solo exhibition, Lambertville NJ, USA
Dawn Klein's interest in photography stems from her childhood love of nature and for creating visual stories. She grew up wandering the fields of a 100-acre dairy farm in the southwest corner of Wisconsin. "I explored meandering brooks filled with crawfish and snakes. The hillsides beckoned with intriguing wooded areas and magical encounters with foxes and deer."  During this time, Ms. Klein developed a powerful connection to nature.  She moved to the Berkshires at the age of 12 and later relocated to a horse stable which her family owned.  She continued to discover the beauty and magic that surrounds us all in western MA. Dawn describes a life interwoven with the outdoors, animals, people.  "Nature, as it is for many, is my primary muse. My eye is caught by nature's truth. The way light interacts with the landscape is an inspiration and a pursuit I try to catch with the camera. Photography allows me to also tell a story visually.  As they say, a picture is worth a thousand words."
Dawn Klein is a middle school English teacher, mother, writer and photographer.  She lives in rural West Cummington, MA.  We welcome Dawn to the Hado-Mark Gallery for her inaugural gallery exhibit.
Nishiki Sugawara-Beda is a Japanese-American visual artist based in painting and installation.  Born and raised in Japan, where all schoolchildren learn calligraphy, Nishiki developed an understanding of her culture.  Studying calligraphy enabled Ms. Sugawara-Beda to recognize the existence of underlying meanings in all forms—language, images, even the mundane interactions of being.  "This craft provides the foundation and inspiration for my practice."
The soft, flowing shapes and exquisite designs of Sugawara-Beda's works connect across space and time.  She experiments by using ancient Japanese materials and techniques including Sumi ink, Kakejiku landscapes, and rice paper, to merge them with abstract and expressive forms familiar to the modern Western aesthetic. 
Sugawara-Beda is passionate about immersing herself in all of the materials she uses to make her art. She fabricates her own gesso and even creates her own soot which she uses to prepare her own sumi ink.  The gentle lightness of her brush strokes contrasted with the lush richness of dark ink colors create soothing yet powerful images.
Exhibitions
Can You Find Your Space, Meijer Artwat, Indiana East University, Richmond, IN 
Will You Be There, Fine Arts Center Gallery, Viterbo University, La Cross, WI
The Land and US, Sheetz Gallery, Penn State Altoona, Altoona, PA
With the Land – Artist Spotlight, Dennos Museum Center, Northwestern Michigan College
I'll Be There, Susan O. Ahern Gallery, the Thelma Sadoff Center for the Arts, Fond du Lac, WI
Zero at Home, Texas Women's University, Denton, TX  
HANA, Thonson Gallery at the Morris Graves Museum of Art, Eureka, CA
Spirit of the Day, University Gallery, Saint Joseph's University, Philadelphia, PA
Tonality, Execute Project, Dallas, TX
Words Walking, Upper Traylor Gallery, Berea College, Berea, KY
Word Within II, Marmot Art Space, Spokane, WA
Word Terminal, Northcutt Steele Gallery, Montana State University, Billings, MT
Trace, Fitton Center for Creative Arts, Hamilton, OH
Written Unwritten, Cultural Arts Center Gallery, Montgomery College, Silver Spring, MD
Publications
"See You There" – a full-color art survey book by Sugawara-Beda from 2012 – 2020
"New American Paintings," Expose Art Magazine
 AEQAI
Athenaeum Review
London Post
Awards
Diversity Fellow Program, a Seed Grant, International Enhancement Grant, Idaho Arts Fellowship, Sam Taylor Fellowship, and the Tusen Takk Foundation residency that have supported her artistic research.
Lois Gold obtained her BA from Boston University and her MA in French from Columbia University. Although initially, a language teacher, Ms. Gold fell in love with painting when she took a Watercolor class. Lois attended the National Academy of Design and the Art Students League in NYC and art became her career. Ms. Gold states:
"In the spring of 2009, I went to see the Pierre Bonnard exhibition at the Metropolitan Museum of Art. Lois states that she kept returning to study these glorious late paintings many times. Each time I saw them, I found that I was becoming more drawn to the idea of painting-driven by color and pattern alone.
I followed my intuition and joyful images appeared as if rising from an inner well spring. I paint spontaneously with no preliminary sketches. Memories, dreams, music and dance all contribute to my inspiration. I have always been interested in ancient frescoes and textured surfaces. I strive to reproduce something akin to them in my paintings. There are translucent as well as impasto areas of paint which alternate to make my painting surface recede and advance. I find inspiration in anything from nature, everyday images to fabrics, and from my immense collection of art books.
My process is an intuitive mix of strokes with not only brushes, but fingers as well. I am not afraid to send water across a section of paint resulting in streaks and splashes, or what I like to call "happy accidents". Acrylics are layered over coats of beaded gel. This method results in a luminously reflective surface. I like to scumble light colors over darker ones, use wonderful handmade papers which I tear and collage, sponges, stamps, stencils and gold leaf-anything which contributes to an interesting varied surface. When you run your hands over the final image, they can be felt as well as seen. My color choices range from the warm drama of Turner to the pastel colors of Monet."
After graduating from the High School of Music & Art and Hunter College Lisa followed her interests in art and psychology to obtain a Master's Degree in Art Therapy from Hahnemann Medical University in Philadelphia.  From art therapist, to recruiter, to a founder of a staffing firm for creative professionals, she always found time to create her own art along the way.
As an avid traveler, many of Lisa's creations evoke imagery from the places she has visited. An outdoor mosaic pedestal is reminiscent of Gaudi's Park Gruell in Barcelona. Many visits to medieval cathedrals across Spain inspired a model of Sant Climent Church constructed in marble, replete with internal architectural details and stonework.
Lisa's eclectic collection of linoleum prints, wall sculptures and mosaic tables represent her travels to Mexico and Europe. She is drawn to patterns of design found in both nature and architecture.  She is excited about opening the gallery for a second season and to show new artists and some previously unseen paintings from her mother Mildred Hado.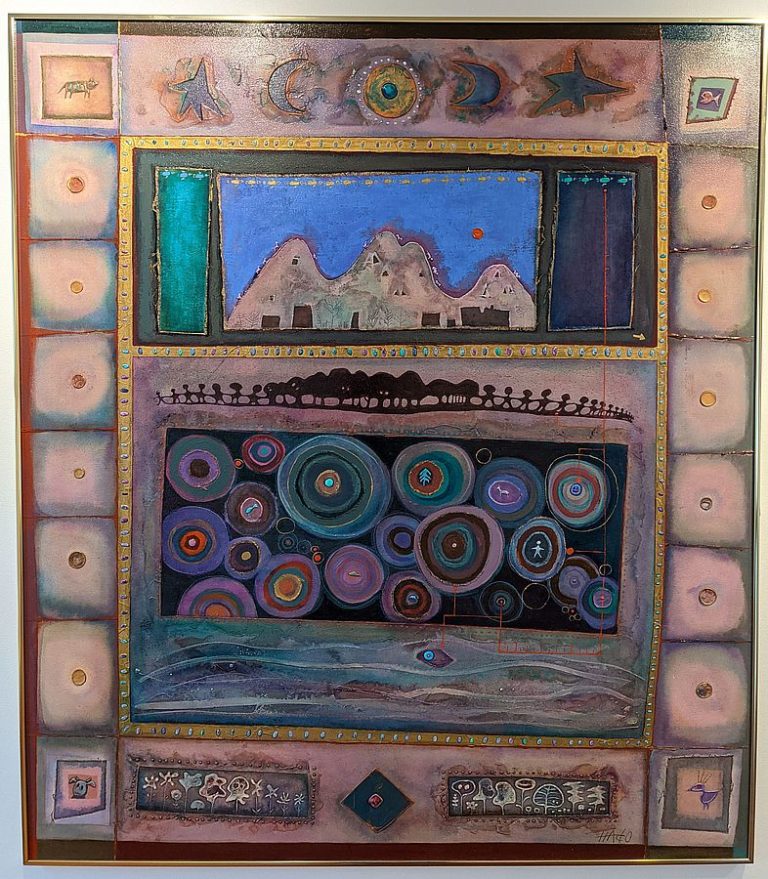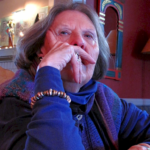 A graduate of Cooper Union School of Art, N.Y, Mildred Hado studied with Robert Gwathmay, Hans Moller, and Edwin Dickinson at the Art Students League, Parsons School of Design, and at Pratt Graphics Center, NY.  Her early experience in the animated commercial and film industry developed in her a sharp sense of design and the power to communicate strongly yet simply. Many of her paintings showcase conceptual ideas and illustrate common sayings in novel ways.  She was influenced by Paul Klee, Saul Steinberg and Gustav Klimpt.
Mildred Hado's work was displayed in many of New York's outdoor art shows, museums and private collections during the 1970's and 80's.  I remember the excitement of her first show at the New York State Pavilion from the 1964 New York World's Fair when she sold her first painting. She became known for her unique painting technique using translucent layers of acrylic paint, richly textured surfaces, and abstract forms through which she communicated social commentary with humor and whimsy.
Mildred exhibited and sold her work widely in Metropolitan NY and New England but looked forward to returning to her gallery in Lenox every summer.
Exhibitions & Collections
Brooklyn Museum, NY 
Heckscher Museum, NY
Queens Museum, NY 
Berkshire Museum, Pittsfield, MA 
Bruce Museum, Greenwich, CT 
WilIiams College Museum, MA 
National Arts Club, NY
By Hand Gallery, Haddonfield, NJ
Fairleigh Dickinson University, NJ
American Health Foundation, NY 
Innisbrook, Tarpon Springs, FL 
National Heart & Lung Institute, Bethesda, MD
Riggs Center, Lenox, MA 
Mindscape Gallery, Evanston, IL
Artexpo, NY 
Hoadley Gallery, Lenox, MA
Clark Whitney Gallery, Lenox MA
Joan Diamond's road as a maker began with clay.  She created sculptures; mixed media jewelry; and some functional wares for years.  She now creates stitched clay mono-prints with surface designed art that is  rich with techniques drawn from dyer's and art quilter's vocabularies, using dye and expressive stitch on a variety of fabrics.  Joan comes to the fiber world without formal introduction: no knowledgeable grandmother or mother to pass along sewing skills, no university training in textiles.  Her sense of design is keen and she expresses her sensitivity to line with her stitchery.
Ms. Diamond grew up on the north shore of Long Island, NY with equal access to beaches, woods, mundane sprawl of housing development, and to New York City.  Her formative years embraced these environments fluidly and she is comfortable with both country and cityscapes.  Her work reflects both organic and structured forms.
Today Joan's studio is in a suburb different from her childhood, but it's one which affords her ready access to natural environs and the Big Apple alike.  She enjoys the freedom to experiment and learn and she's happy to have a place in the continuum of artists who have preceded her and those who are yet to come.
NJ Arts Annual: ReVision and Respond, Newark Museum of Art, Newark, NJ
"215/610 Contemporary Juried Exhibition of Regional Emerging Artist"
"42 Annual Juried Exhibition", Monmouth Museum, Lincroft, NJ
Textile Study Group of New York Members Online Gallery, since 2016
"New Directions in Fiber Art", Montclair Art Museum, Montclair, NJ
"Viewpoints 2018", Studio Montclair Gallery. Montclair, NJ. Juried Show. Best in Show
"2018 Korea Bojagi Forum". SETEC, Seoul, Korea. 
"Red", TSGNY Show, NoHo Gallery, New York, NY
Art Cloth Network
Studio Montclair
Peters Valley School of Craft
Metropolitan Museum of Art
American Craft Council
Surface Design Association
World Shibori Network
Xiang Lan grew up in southern mainland China.  He attended Parsons School of Art & Design at The New School where he studied Design and Management.  He is passionate about painting and his body of work has been developing at a quick pace over the past few years. As a UX-Designer, Xiang lives and works in New Jersey.  We are excited to bring some of his beautiful work to the Berkshires.
Lan paints with a sense of joy which is apparent in his clear, abstract pieces painted in bright, fun colors.  He has a striking sense of design and uses clean, bold shapes and lines to express many of his thoughts and feelings: "Raw ones, fun ones, naughty ones, and scary ones."
Xiang says of his work; "I am fully aware of the chaos and nonsense in the world, but where is that tiny bit of innocence?  That 30 seconds of joy we had as a child, which is warm, carefree, and fearless."
I first viewed his work during the South Orange-Maplewood Art Walk in fall, 2020 and I was immediately taken by his paintings.  I hope you enjoy them!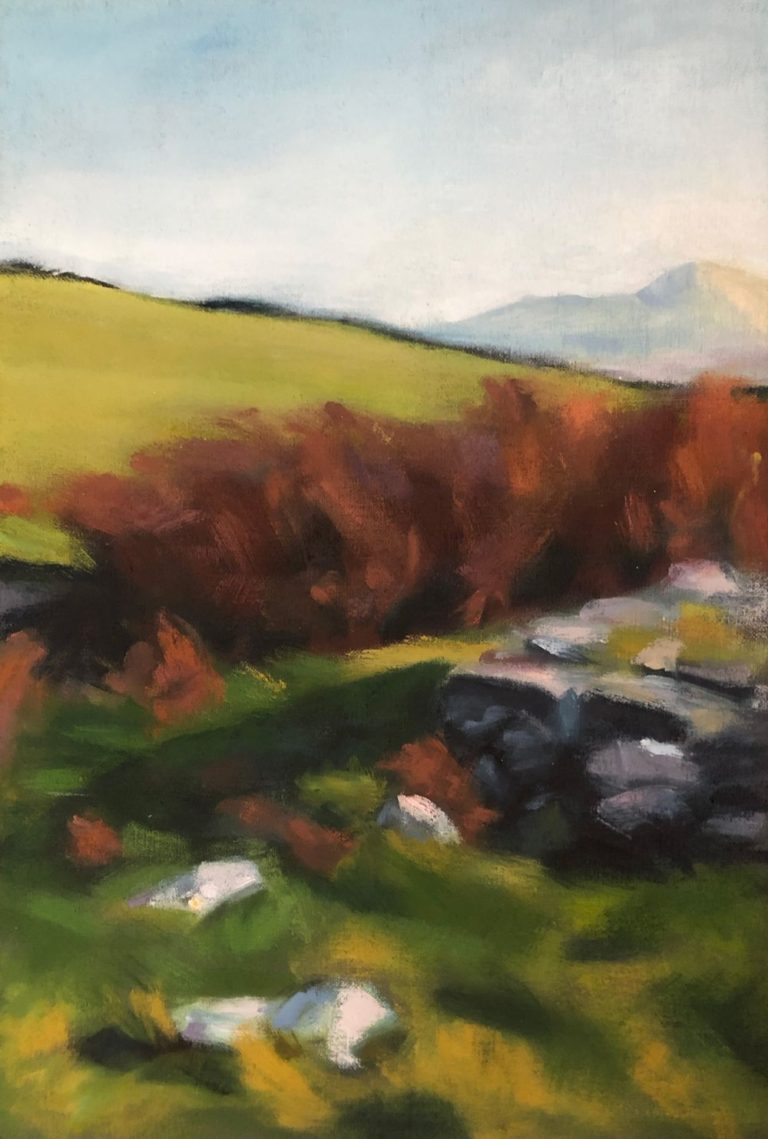 With a BFA from the University of Connecticut, Sheila McManus has studied at the Art Students League, The Cooper Union, and Woodstock School of Art.  She studied painting in college and launched a successful career as a Graphic Artist and worked for many years at Burson-Marsteller as a Web Designer.  
While spending weekends at her cabin in beautiful Catskills, NY.  Sheila took a watercolor class with Alix Travers.   The experience inspired her to spend more time painting which led her back to her first love; oil painting.  She's also enjoyed plein air painting with a group of NYC artists.  Early influencers include Manet, Gauguin, Bonnard, and Matisse.
Imagery from childhood comic books and cartoons combined with observations of the shapes and forms of the world around her inform McManus's painting style.  She enjoys spending time in New York City's galleries discovering new artists.  Her favorite artists include Goya, Diebenkorn, David Hockney, Alice Neel, Lois Dodd.  Sheila chooses her color palettes carefully to create endearing paintings with interesting color combinations.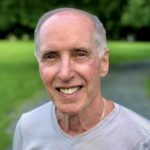 Robert Wolf holds both undergraduate and graduate degrees in Art and Design and Professional Studies in Art Therapy and Creativity Development from Pratt Institute. He studied fine art, photography, and sculpting at Pratt Institute and The Tyler School of Art at Temple University. His sculptural forms have been influenced by Brancusi, Arp, and Moore. They are composed of organic, linear, and gestural images that are translated into abstract form. These contemporary sculptures integrate elements of human form and movement, with the natural beauty of a variety of types of stone and wood.
Wolf also works with digital photographic media and the production of unique portraits and urban and rural landscapes. He is currently a professor of studio art and art therapy professor at the graduate school of the College of Mount Saint Vincent, in NYC. His photographs and sculpture have been published and exhibited internationally throughout the United States, Costa Rica, Europe, and South Korea.